San Miguel Parish Church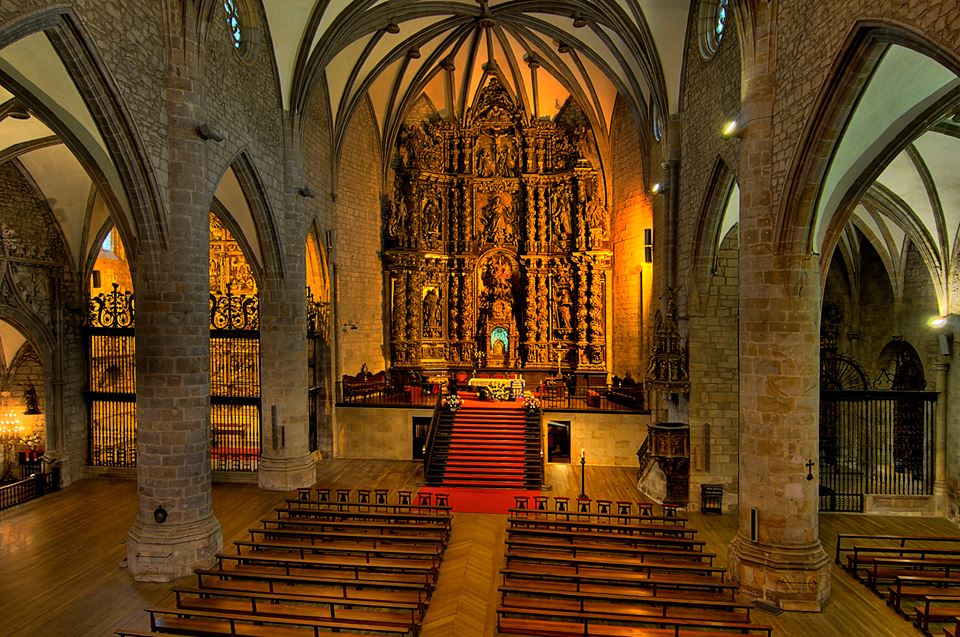 Like many of our best buildings, San Miguel Parish Church is the result of generations of different contributions, age-old juxtapositions and a balanced collection of tastes and sensibilities, all mixed together to form one harmonious whole.
The original building was a gothic construction with a single nave, known as the Rosary nave, built during the 11th century; later, during the 15th century, two new gothic naves were added, the central one being slightly higher than the other two and supported by buttress. The gothic blazing cloister was added during the 16th century, along with a fourth connecting nave, the renaissance pulpit and the la Piedad Chapel, with its plateresque altarpiece. The crypt was built during the 15th century and the main entrance and the high altarpiece, both baroque in style, date from the 16th century, as do the choir arch and finally, the neo-classical tower.
Here we find again the key figures of the Guevaras and the Zuazolas. The Counts were patrons of the church and were buried here, first in El Rosario Chapel and later in the crypt; for his part, the Bishop had his own mausoleum built into La Piedad Chapel, hence guaranteeing for himself divine intervention and the perpetuation of earthly fame.
Pedro de Guevara's white alabaster tomb, with its mournful lions, is truly magnificent, but is nevertheless overshadowed by Rodrigo Mercado's chapel of rest, which has a plateresque altarpiece filled with images of the Passion, the Virgin's life, saints, prophets and cherubs. It also contains a very simple tomb by Pierres Picart and a mausoleum attributed to Diego de Siloé, carved as an altarpiece with a praying Bishop Zuazola attended by a virtue as the main theme (very similar to the one on the University's main façade).
The chapel is separated from the nave by a splendid and richly decorated iron gate, which makes reference to the Pietà and shows the skills of the local forgers. The cloister was also built by Zuazola, who, making a virtue of necessity, solved the problem of the lack of suitable building land by constructing two bridges over the river. The result is quite extraordinary and unique in Spain.
The high altarpiece, carved by Juan Bautista Suso, contains all the baroque lushness of foliage, spiral columns, fruit, cherubs and the patron saints of the town: Saint Michael, Saint Sebastian and Saint Roch. We should also mention that Oñati now has its own saint, the Dominican monk Miguel de Aozaraza, beheaded in Japan in 1637. The extended torture to which the martyr was subjected are depicted in the work exhibited in the church.